Kaleigh & Brydie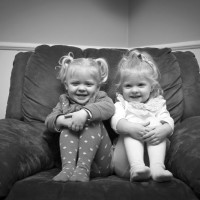 Sunday 26 June – another fun filled photo session with gorgeous 3 year fraternal twin sisters, Kaleigh and Brydie of Queanbeyan, NSW.
I was warmly welcomed by Teresa and Ian the proud parents of twins Kaleigh and Brydie and their 4 year old daughter Ella and grand parents from Victoria.  Teresa's parents were lending a helping hand for the busy family as Teresa had been unwell the past week and I am relieved to hear she is on the mend.  The hospital gave Teresa a leave pass to attend the photo session.  "We could have done the session another day", I said.   Teresa replied "I didn't want to have to reschedule".  Both Kaleigh and Brydie will be feature in the 2nd edition of  'A World of Twins', a black and white photography showcasing some images and personal stories from sets of twins around Australia!
Sitting at their cute little table and chairs that were imitation pencils, playing with their doll house was the first photo of the session.  Brydie and Kaleigh surely did know how to interact with the camera, especially Kaleigh.  The twins wanted some shots in their bedroom jumping on their beds with Ella, their 4 year old sister.  After checking with Teresa that it was ok for them to jump on their beds we let them go for it.  So I snapped and snapped, capturing some great fun filled images and a few shots of 'double up – take two' in the mirror which worked well.
I snapped a couple of shots of them in the yard on their bikes, some with their colourful wind whirlers, with their pet dog and also scrambling up on the climbing frame.  To finish off our session I snapped some individual and family shots.
THANK YOU  Ian and Teresea for inviting me and giving me an opportunity to capture some special moments for you of your lovely family.  I look forward to seeing Brydie and Kaleigh in the next edition of 'A World of Twins.
GD Star Rating
loading…
Kaleigh & Brydie

,