Ava & Oliva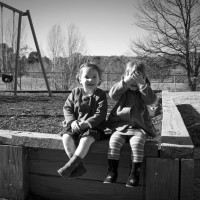 Great photo shoot with 2 year old twins Ava and Olivia and parents Shane and Peta of Queanbeyan on Saturday 25th June.  What a perfect winters day, not a breeze in the air or a cloud in the sky…couldn't have asked for better weather.
We started the photo session indoors and captured the girls playing in their bedroom.  Their bedroom was filled with two of everything, baskets, prams, toys and amazingly two little vacuum cleaners – we know who helps Mum with the cleaning too!  Toys today are great, they even had a stove that bubbled, lit up and made noises.  They were cooking up a feast, simply fantastic – Oh to be a KID again!!!
At the end of Master Chief we headed to the back porch where the girls had their own little playground.  They even had two little lawn mowers so now we know who helps Dad in the garden too!  A bubble machine was brought out which Olivia and Ava thought was pretty cool – running around trying to pop all the bubbles at once but there were sooooo many.
Exhausted from all the running around we stopped for morning tea.
As soon as morning tea was finished we put on our coats and scarves and ventured down to Glebe Park beside the Queanbeyan River.  I snapped away on the way there and back and got some lovely candid family shots and some individual ones of the twins playing in the park.  We finished our session with a couple on the front porch of their cute little cottage home in Queanbeyan.
I can't wait to see Olivia and Ava feature in the 2nd edition of A World of Twins.  Thank you to Shane and Peta for the warm welcome and hospitality, oh how I love my job!
GD Star Rating
loading…
Ava & Oliva

,